Facebook is a social network founded in 2004 by a group of students at Harvard University led by Mark Zuckerberg.
At first, only students at Harvard University had access to the network. Then students of other American universities could register in the system. Facebook is currently the largest social network in the world.
Facebook provides several opportunities to promote your business:
1. Community
A community is a page or group that brings together an audience of interest (to a product or idea). This is an additional "showcase" for the site or a completely independent platform for the implementation of business goals.
How can this tool be used? The first option is to create a page that attracts fans of the brand or product. For such users, it is important to reflect the benefits of purchasing your product. You can also offer valuable and useful information about your brand or your products to interested audiences.
The second option involves a hidden promotion strategy. In this case, the community is created to unite the audience under a common idea. For example, if you're in the pet business, you could create a page for pet lovers. Having united people with this interest, offer your product with the help of indirect advertising.

Why you should use this tool:
Building a community doesn't take long;
Instant communication with the audience (competitions, discounts, promotions, free marketing research);
Maintenance does not require relatively much effort;
Socialization of your brand or product (brand gets closer to the customer).

2. Facebook Ads
Facebook Ads - these are information graphic blocks that are shown to users with certain characteristics (gender, age, interests, behavior, etc.)

Facebook has a very flexible targeting system for displaying ads: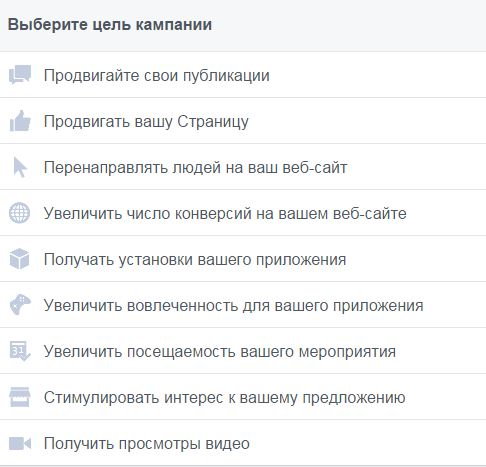 Each promotion goal has its own special ad format.
Publication promotion involves the initial posting of a post (text + photo, links) on the corporate Facebook page, followed by the purchase of an advertising platform in the news feed of users selected by targeting (selection of the audience according to specified criteria: gender, age, behavior, etc.). For example: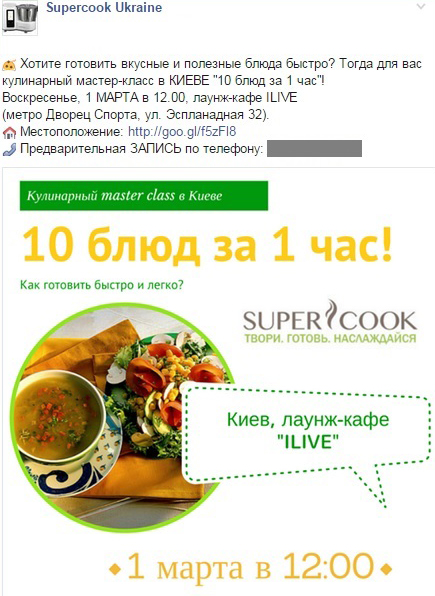 Page Promotion is to create an advertisement with a call to subscribe to the community. However, the ad is separate from the Page's post feed. The display is carried out in the news feed and the right column of the target audience. For example: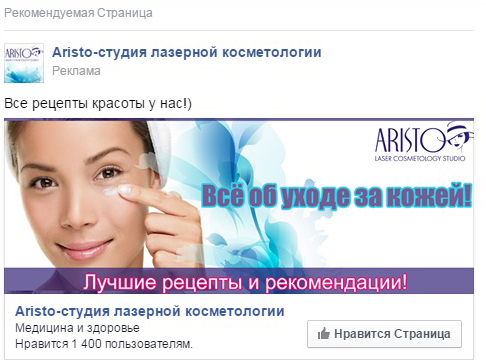 With Facebook you can redirect people to the site. The ad format is similar to the previous one, only the target action of this format will not be a subscription to the Page, but a click on the website. For example: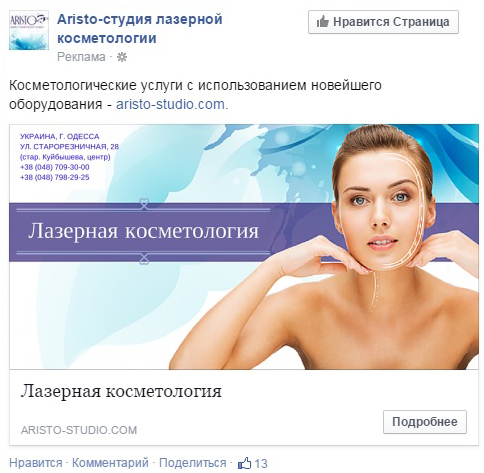 These three ad formats are the most commonly used. However, Facebook has other interesting advertising options, such as how increase in website conversions. With this tool, you can redirect users to perform actions such as signing up for a newsletter. To track the effectiveness of your ad, you need to embed the Facebook code on your website.
If you have Facebook apps, you can use targeting to get installs and engagement for them.
For those who are involved in master classes, create newsworthy events or events, there is a great opportunity to promote through events. Separately, you can also talk about promotions and new discounts on your site. Like Vkontakte on Facebook, there are effective ads to increase video views.
Promotion on social networks, in particular on Facebook, is not suitable for all types of businesses. Of course, if you wish, with significant financial investments and great ideas, you can promote everything and everywhere. But there are categories of goods that are cheaper and more efficient to promote using other Internet marketing services − SEO Services or contextual advertising sites.
The Facebook audience, unlike Vkontakte, is more loyal to the presence of brands in the social network, tends to subscribe to them. In addition, users often have a high social status, which helps in the promotion of expensive goods.
Types of businesses that Facebook audiences are interested in:
Products for the mass user;
Products for a niche vip audience;
Internet shops;
Games and applications;
beauty and entertainment industry;
Information services and events.
It is much more difficult to promote medical services or real estate sales on Facebook. The promotion of these topics is not very effective due to the difficulty of selecting an audience. It's not easy to find people who have "something hurts", because it's not customary to talk about it on social networks. The exception is medical cosmetology services.
Despite the fact that Facebook users most often have a high social status, finding a real estate buyer is difficult. Potentially, the probability of buying an apartment is possible due to the relative wealth of users, but how can you know about the real need to buy an apartment? After all, buying an apartment is not a spontaneous desire. It is much more effective in this case to use contextual advertising.
It is possible to evaluate how effective the promotion of a Page on Facebook is with the help of internal Facebook statistics.
To get detailed information about your Page, you need it to exist for at least a month and have at least 100 subscribers. Facebook statistics is a very detailed and user-friendly data analysis tool. It shows much more information than, for example, Vkontakte statistics.
On the first statistics tab, you can see a general overview of the data for the week. In such a short summary, there are both advantages and disadvantages. The advantage is that you can skim through almost all the most important indicators for the week. The downside is that this is only a general pivot table.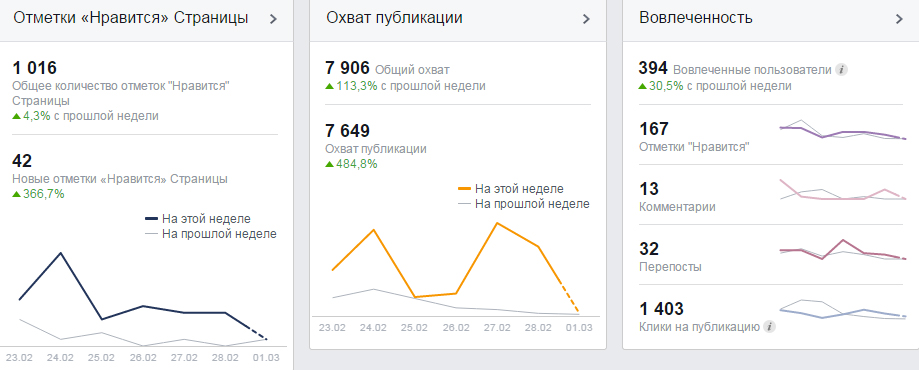 The most useful data that is missing from Vkontakte but is present on Facebook is "When fans are online" and the reach of each post.
The number of users who will see the publications of the Page directly depends on the number of subscribers present at a certain time. Therefore, the time of publications should be planned in accordance with the "Publications" section, namely, pay attention to the "When the fans are online" static.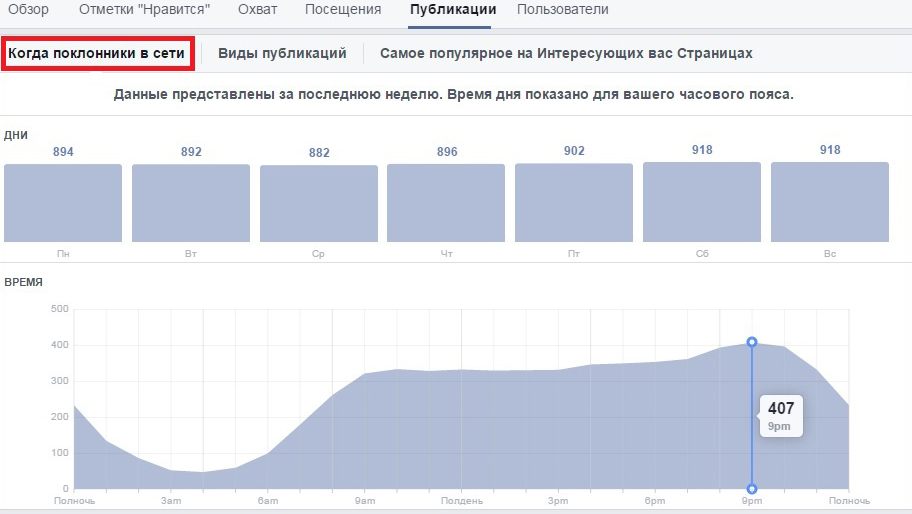 In addition to answering the question "When to publish?" Facebook will also tell you what to post. You can find out about the most popular type of publication on the "Types of publications" tab. There you can also see the reach statistics for each published post.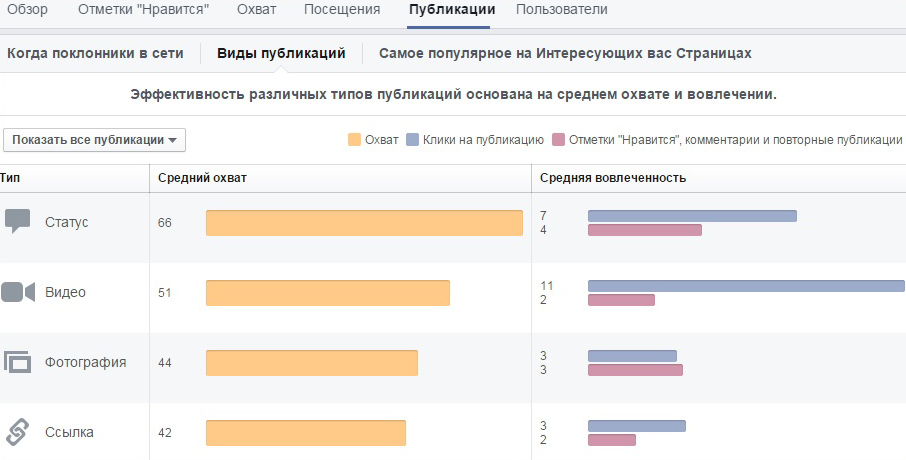 When you already have subscribers, you can find out the demographics: gender, age, where they are from and which users are the most engaged. Information about the most engaged users is good to use in paid promotion. For greater effectiveness of paid ads (as a result of reducing the cost per action), you need to target the most engaged audience.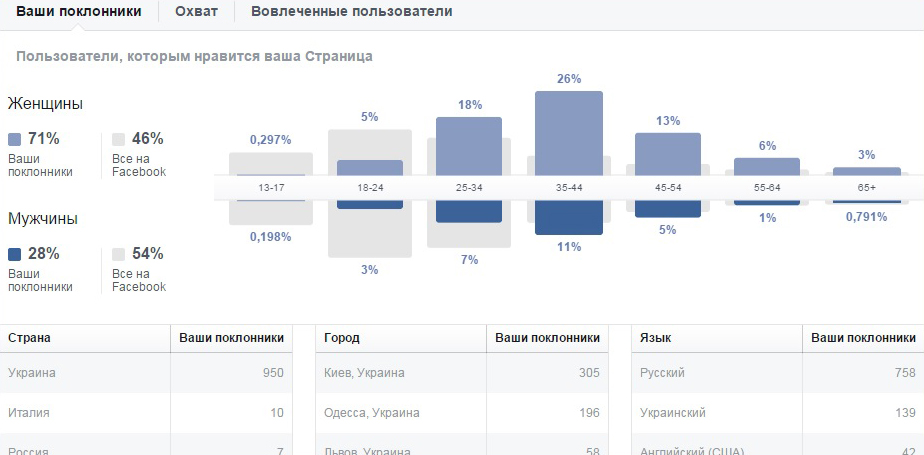 Facebook has a huge range of Page enhancement apps. The most useful of these are:
Booshaka is a great solution for contests and increasing community activity. Allows you to find the most active subscribers, that is, those who like, comment and repost more often. You can reward the most active participants. Periodic contests will work especially effectively;
Static HTML: iframe tabs: allows you to create your own application for any purpose. With it, you can even create an online store based on Facebook. Can be used to provide additional traffic to the site. In this case, the application looks like an analogue of a web resource. All section links are clickable and lead to the site.
YouTube Tab - Adds a video to a Page. With it, you can get additional attention to the product and keep the user in the community for a longer period. You can choose the image and name of the application yourself.
Do you have experience promoting on Facebook? What difficulties did you face? Write to us in the comments!
Author: Oksana Dudnik