Initial data on the company's social networks
Target: 10,000 subscribers by the end of the year at the lowest price
Advertising systems: Advertising on Instagram and Facebook
Subject:Company for the production and supply of high-quality sunflower seeds, corn, winter rapeseed and alfalfa varieties.
Facebook ad budget: 100$ per month for the first three months, then upgraded to 400$
Instagram advertising budget: 100$ per month
Region: Ukraine
Competition: low
The target audience: Farmers, landowners engaged in agriculture and animal husbandry
Strategy: Strategies were based on direct interests, indirect and lal audiences, the goal is Interaction with the publication
Advertising purpose: Facebook Page Likes and Post Engagement/Instagram Traffic
Advertising period:Facebook from June 2021 to now, Instagram from October 2021 to now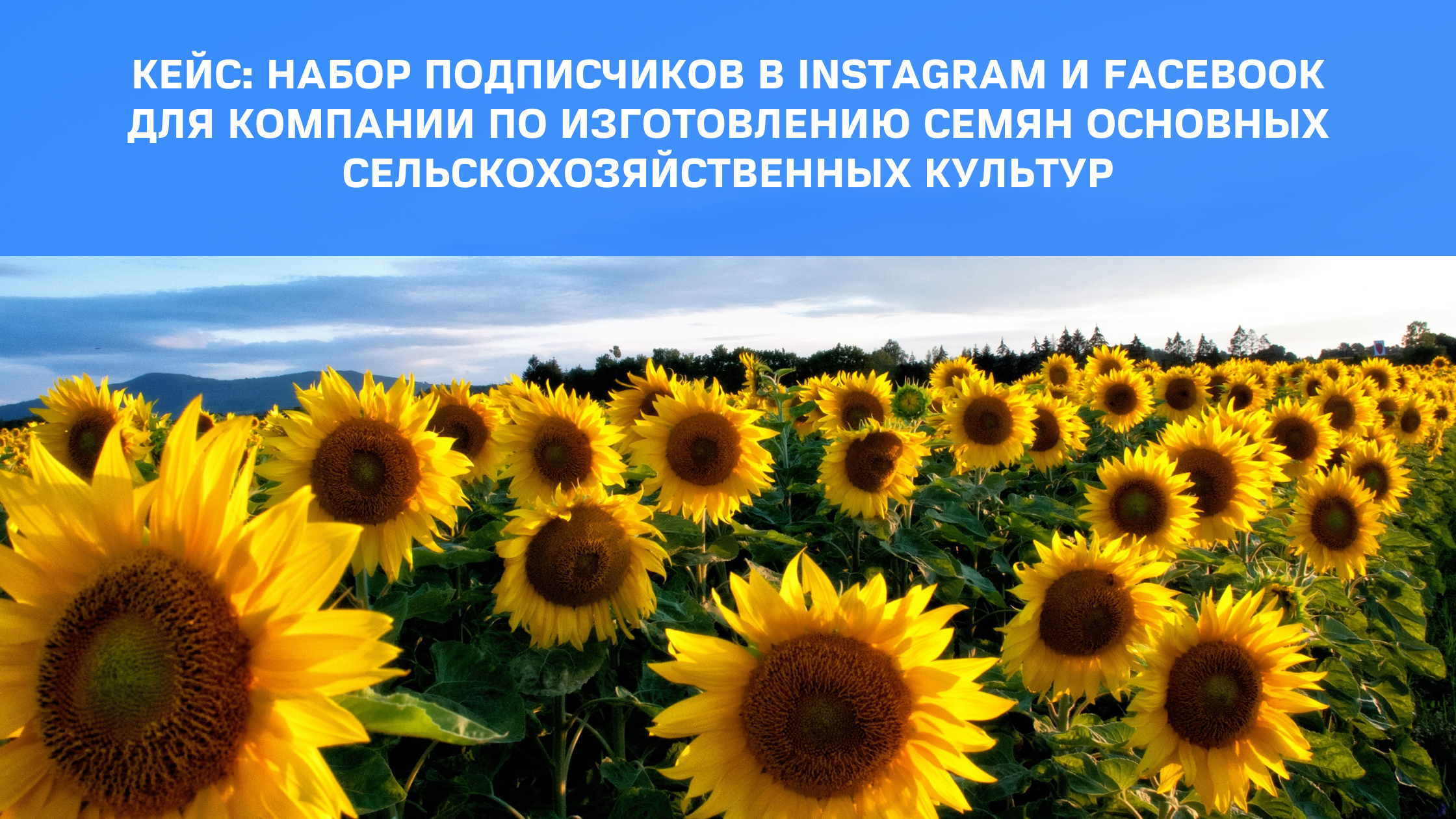 The niche of the agro-industry is not crowded, but the main problem is the correct selection of the audience, since there are not many actively interested. The main goal is to generate interest and attract to the pages of social networks. Several strategies have been used to identify the one that works best.

Launch and optimization of advertising for a seed company
Facebook Ads Strategy
To begin with, we developed an audience search strategy. Since the budget was small, it was decided to try them one by one and build an audience gradually.
A set of post interactions to find the most engaged audience

Running ads on an audience similar to those who interacted with the page
This strategy brought an acceptable result, the budget was increased. In the future, this audience narrowed, cutting off the expensive audience, and we reached a price of 0.20$ per subscriber. We also regularly launch the promotion of publications to increase event attendance and recognition of new products
Instagram advertising strategy
The client decided to promote the page on Instagram after a successful promotion on Facebook. The audience in this social network is more difficult, there is no way to optimize for a set of subscribers, the need for deeplink
The promotion strategy on Instagram was similar to that on Facebook:
Launch brand awareness ads to increase page activity and attract an interested audience.

Running ads with the goal Traffic, lead to the Instagram page via a deeplink (so that the page opens in the application, not in the browser)
This strategy generated 1,13$ subscribers, which was higher than expected. After talking with Facebook support and conducting an analysis, it was decided to launch advertising tests through Instagram itself, to an audience by interests for the purpose of Interaction with the publication. Launched for 10 days on a minimum budget. This strategy did not bring results, so it was decided to return to the original strategy and gradually lower the price of a subscriber, cutting off expensive channels and expanding cheap ones.
Facebook and Instagram Ad Metrics
The screenshot below shows the results of the Facebook Engagement and Awareness Campaign.


Testing different audiences and theories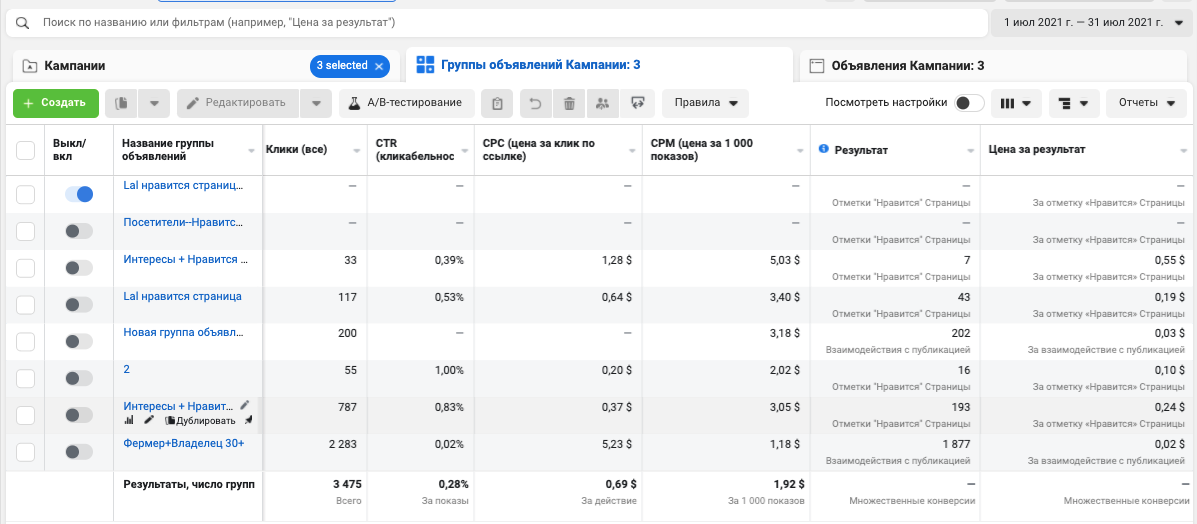 Cutting down idle audiences


The optimal audience has been found, we are working with it. We expand cheap channels, close expensive ones.


Getting started with Instagram, engagement and traffic


Optimizing Instagram ads, Facebook has stabilized and the price of a subscriber is gradually falling


Testing different approaches to promotion on Instagram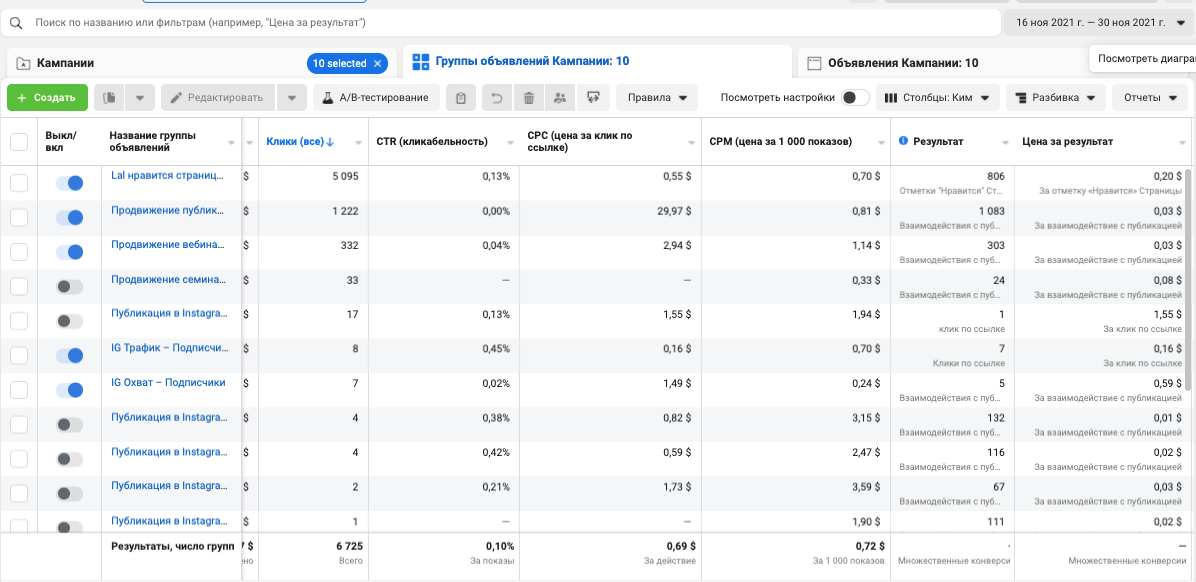 Selection of creatives
Instagram ads use existing posts to drive engagement and brand awareness. In Facebook advertising, creatives were created for the audience, different approaches were tested. Video advertising gave the best result, a static image attracts less attention.