Portfolio: Promotion Uniq.ua online store of flash drives, Odessa (Ukraine)
Uniq.ua is your trusted source for high quality flash drives in Odessa. With a constantly updated product range, we are proud to offer a wide range of storage devices from leading manufacturers in the industry.
Whether you're looking for large storage space or a compact file transfer device, we offer flash drives in a variety of sizes and designs to meet the highest standards of manufacturing and quality.
At Uniq.ua, we value your time and strive to provide a seamless shopping experience. Our site is easy to navigate, offering a clear product view with detailed descriptions and clear images. Thanks to a convenient online ordering system and fast delivery, getting the flash drive you want is easier than ever.
Uniq.ua also offers an excellent customer support team ready to answer all your questions and ensure a seamless shopping experience. We believe that our success is the trust and satisfaction of our customers.
Visit Uniq.ua today and discover a wide selection of high quality flash drives at affordable prices. Your ideal media is waiting for you here.
Results of SEO promotion of the project: Uniq.ua online store of flash drives, Odessa (Ukraine)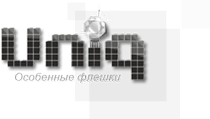 Goals:
Selling flash drives online
| Keyword | Position on Google | Position in Yandex | Traffic (month) |
| --- | --- | --- | --- |
| funny flash drives | 1 | 1 | 65 |
| original flash drives | 1 | 2 | 39 |
| glamorous flash drives | 1 | 1 | 52 |
| creative flash drives | 1 | 3 | 28 |
| gift flash drives Kyiv | 1 | 4 | 29 |
---