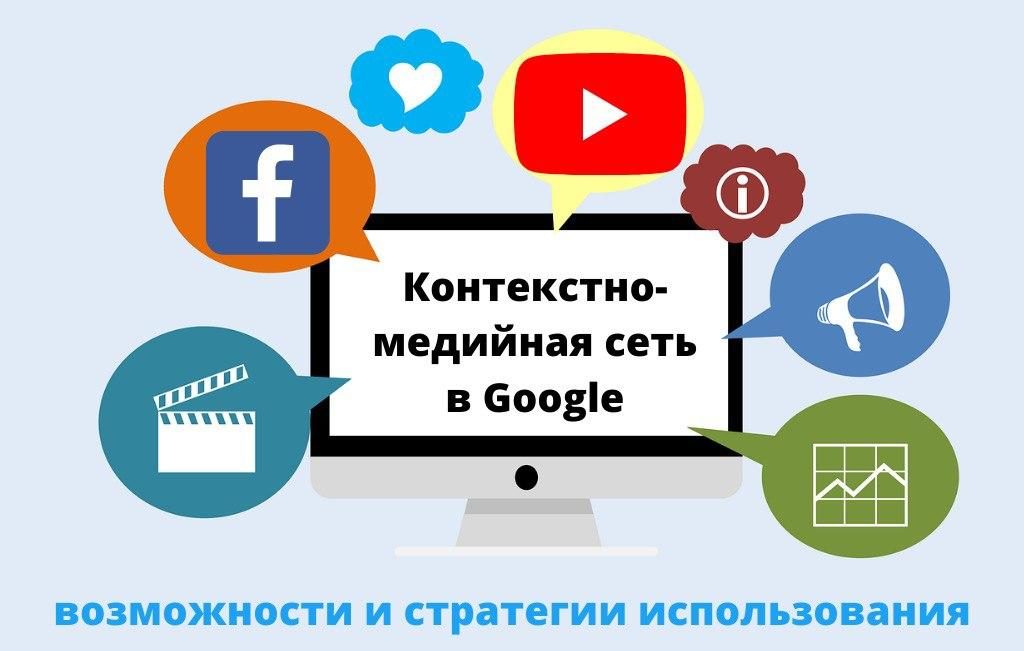 The buyer left goods in a basket and left the website? It is necessary to acquaint audience with a brand and to make it recognizable or to offer goods to those who aren't interested in him so far? In such situations use advertizing in Contextual and media network Google.
Reference: The contextual and media network Google (KMS) is called still by GDN – Google Display Network.

of the Possibility of KMS
KMS differs from PPC and other types of Internet advance in the fact that advertizing are shown not in response to search queries. Places for announcements aren't on pages of delivery of Google and don't depend on ranging algorithms.
Displays are carried out on those web resources where there are users: in blogs, on the websites, YouTube channels, etc. At the same time they don't look for a concrete product and can look through content on any subject. Perhaps, users were interested in a product recently or read that with it it is connected. In different cases of Google shows announcements according to the interests of users, judging by their actions in Network.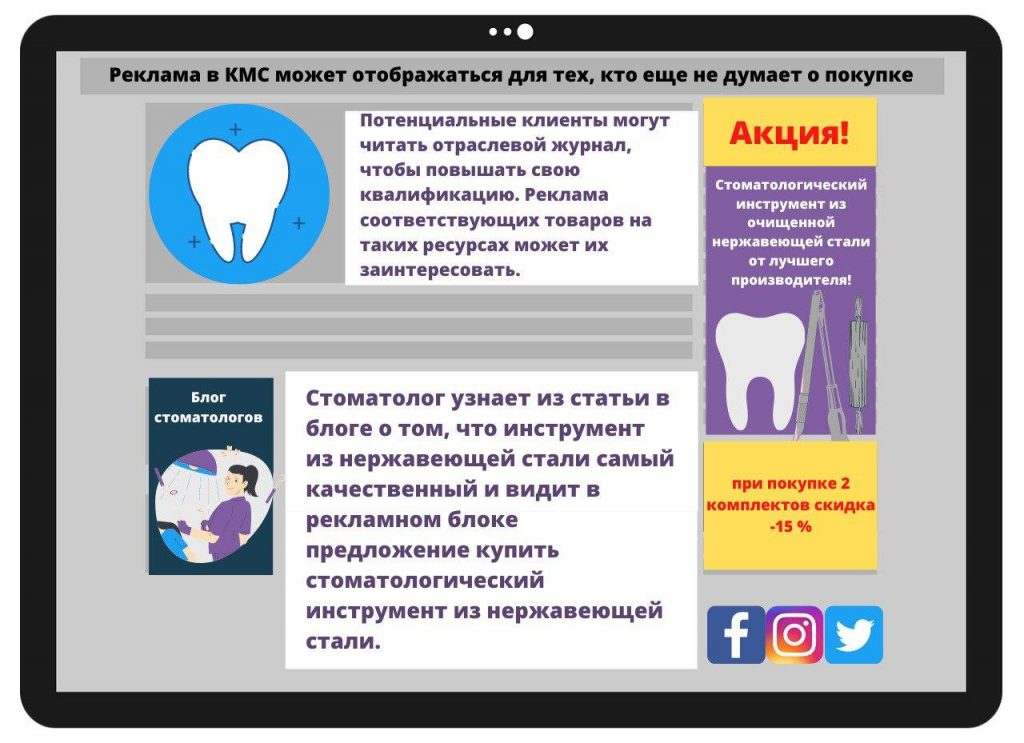 This type of advertizing is used for such tasks:
Acquaintance of target audience to the product.
Advance of a brand, formation of his positive reputation and popularity.
Remarketing – sale of goods and services by that who didn't close the deal. About 72% of all carts on the Internet are left. Only 8% of clients come back to online store to make payment for goods which they chose. (Research MarketingSherpa). The buyer can't decide on the choice of shop? It is possible to remind him of himself when he looks through the competitor's web resource, having placed advertizing of the brand, online store or a product.
Sale of goods and services, the accompanying subjects which the client already got. If he bought the smartphone, it is possible to offer him mobile gadgets accessories.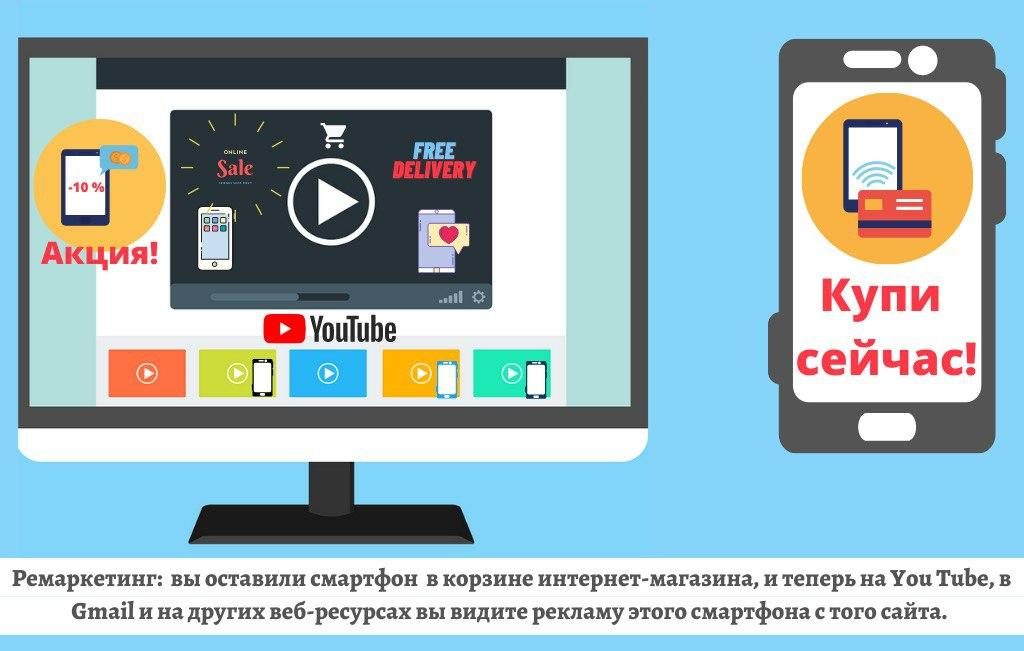 Control of advertizing in KMS
This service allows to work in details the announcement, audience and locations.
It is possible to create an advertizing creative which will draw attention and will induce to target action.
Placement
To whom advertizing will be shown depends on what criteria of demonstration are specified. The system can automatically choose on what web resources to show the announcement, depending on the specified keywords.
There is an opportunity to choose manually the websites, channels, applications and video where the announcement will be shown. It can use if habits and the interests of target audience are well-known.
Targeting
This indicator helps to adjust the announcement under features of potential clients. In the automatic mode all types of targeting are focused more on English-speaking audience. If to work with them manually, it will turn out to adjust correctly them for the tasks. At targeting there are such criteria:
Demography – a sex, age whether the user has children, etc. It influences in what look it is better to present advertizing: the text, video, images and on her content and style of registration.
Geolocation – location of the person.
at what stage of a funnel of sales there is a user. Announcements can be shown to those who left goods in a basket, filled a lead form or wide audience which advertizing can interest.
Type of electronic devices. People look for information on goods and buy them, using both mobile gadgets, and desktop computers therefore it is important to capture all options of displays.
Interests. Being guided by users who look for certain subjects, goods or services, it is worth applying selection for keywords. "The user audience" on interests in the automatic mode is more effective for foreign projects.
Can turn off display in mobile applications and games at once. They don't give high conversion if advertizing directly isn't connected with them.
Is important! At control of targeting you shouldn't do too many restrictions, otherwise it will narrow coverage.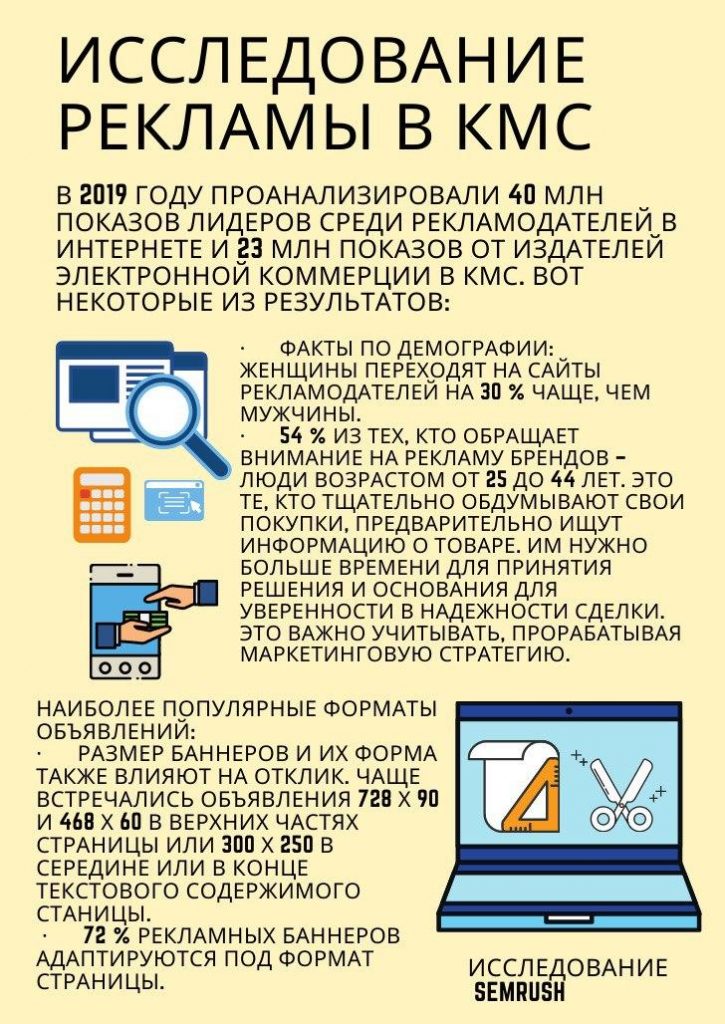 of Strategy of use of KMS
In order that such advertizing yielded result, it is necessary to approach carefully to to her control:
to Think over the purposes: specific actions of users, acquaintance of target audience to a new brand, increase in activity on the website, etc. To each purpose it is possible to develop a separate campaign. Sometimes certain goods or group require separate targeting, an advertizing creative and selection of pages for displays.
Depending on tasks can use the KMS different tools. Not all types of advertizing at the same time are often involved, and started on such stages:

Creation of the announcement. The multipurpose designer of an adaptive format allows to use different types of design, ways of arrangement of text contents and other elements of advertizing. For those options on which a bigger response, graphic banners under different ways of display are made out.
Choice of formats of advertizing. It is possible to use all suitable views and from them to choose the most effective on the basis of statistics.
Targeting Control: remarketing, selection of audience for keywords and subjects; according to keywords to content, DSK and subjects; choice of locations manually.
of the Analyst by means of Google Analytics for studying behavior of users in response to campaigns. It will help to learn what announcements give big conversion whether the audience and growth of sales and target actions corresponding to it increased. Whether the number of local conversion at different stages of a funnel of sales increased?
to Use OKMS. It is a type of advertizing, the optimized search of platforms, relevant to keywords which are connected with the short-term interests of users. It is applied in spheres with the high competition on goods to broad demand.
As well as with any kit of tool and opportunities, it is necessary to work with Contextual and media network: to try different advertizing projects and versions of filters, targeting, to keep track of effectiveness of campaigns. If it is correct to adjust advertizing, it will capture audience which will become interested in the offer and conversion will increase.