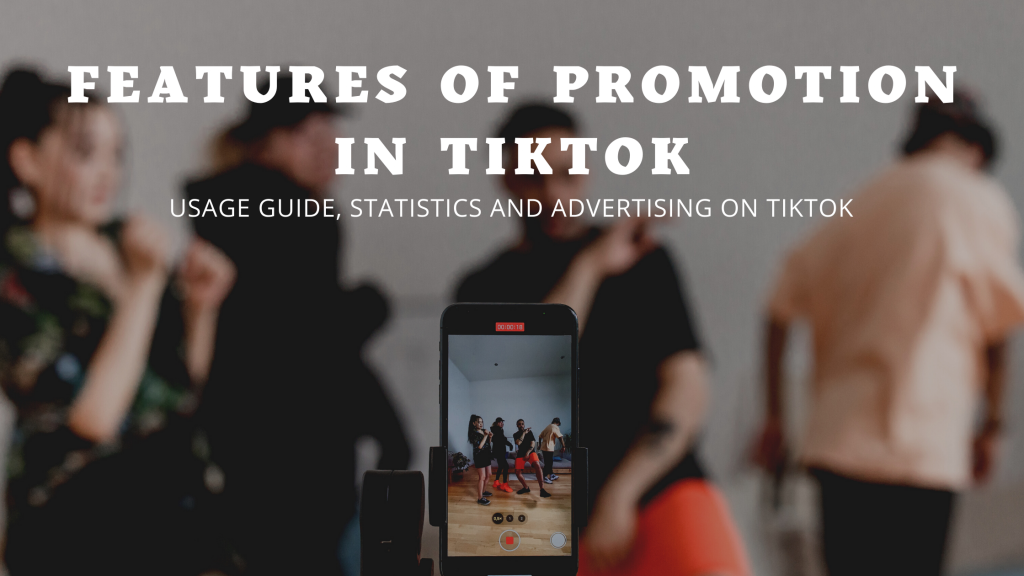 PAGE NAVIGATION:
Short videos filled the world. Instagram is pushing its Reels, YouTube is launching Shorts. The whole world shoots music videos, comedy sketches, dances, reactions to trends, but how did it start?

The transition from photo content to video launched TikTok, a platform for creating and sharing short videos. Initially launched as a short video sharing platform, TikTok has evolved into a complete video service with content accessible to all types of viewers. And it's very easy to get hooked on this endless tape.
Getting Started
In many ways, the platform is very similar to its counterparts, and if you have ever used Facebook or Instagram Stories, then it will not be difficult to figure out the functionality. However, there are still some differences and nuances in TikTok.
The application is easy to use without registration, but in order to subscribe to interesting tiktokers, set preferences and publish content yourself, you will have to register.
This can be done through the profiles of other social networks, through your mail or phone number.
Navigation in TikTok
To navigate within the application, the tabs located at the bottom of the screen are used.
The main one is the tape. Using the buttons at the top, you can switch between subscriptions and recommendations, and the icons on the right are responsible for subscribing to the author of the video, likes, comments, as well as sharing to other social networks and calling up a menu with additional functions.
At the bottom of the screen there is an author's description, hashtags and information about the track that is used in the video.
Swiping up and down switches videos, and swiping right opens the profile of the author of the video, which displays information about him and other content.
At the top is a bell button that sets up notifications from the user, and by clicking on the button with three dots, you can share a link to it, write a private message, and also complain or block.
On the "Interesting" tab, it's easy to find a person of interest, music or video by hashtag.
In addition, curated content and currently popular tags are also displayed here.
Another useful feature is a QR code scanner, which serves to quickly subscribe to users. In it, you can also view your personal QR code and show it to another person.
The Inbox tab will include alerts for new videos and live broadcasts, information about TikTok events and trends, as well as private messages in which you can correspond with other users of the social network.
The "Profile" section, like on Instagram, serves to display information about you.
In addition to the gallery, published and liked videos, there are statistics on subscribers and likes, a profile description and the ability to call the application settings.
Using the buttons on the top panel, you can add users from your contacts and friends in social networks and view the calendar of events for which you are registered.
The central button on the toolbar is reserved for the most important function – content creation.
As usual, there are two ways: shoot and publish a new video, or choose a finished video from the gallery.
Tik Tok statistics around the world
Over 1 billion active users every month, according to a TikTok press release in 2021. This figure is constantly growing.
The most downloaded app in 2021, the total number of TikTok downloads exceeds 2.5 billion. According to a Forbes report, TikTok had more downloads in the second quarter of 2021 than any other app in the world. Also, according to Statista, users have downloaded the app nearly 205 million times. Of course, the popularity of the app will not decrease by 2022, which means that the number of downloads is likely to increase.
TikTok is one of the top three fastest growing brands. 2020 has been one of the best years for the platform, with the website reaching 2.6 billion in total downloads. It ranked third in Morning Consult's report of the fastest growing brands of the year.
December 2019: 74.5% of users were active on the app. People often download multiple apps and rarely use them, this is not the case with TikTok. The App Ape report suggests that 23% of people used the app during December 2/3, with only 26% not using it at all.
"TikTok" is the third most searched term on YouTube. YouTube usually has compilations of different TikTok trends, which is unique for the oldest video-sharing platform on the internet.
"TikTok" is the third most searched term on YouTube. YouTube usually has compilations of different TikTok trends, which is unique for the oldest video-sharing platform on the internet.
Pew research data shows that 48% of people aged 18-29 and 22% of people aged 30-49 have used TikTok.
In 2021, 59% of TikTok users worldwide were women.
TikTok's revenue in 2021 is up 60% to $63 billion.
Between April 2019 and May 2018, in-app purchases increased by 500%, generating $7.4 billion in total revenue. According to a Comprar Acciones report, between January 2020 and 2021, in-app purchases for TikTok increased by nearly 380%.
At the end of 2020, Bytedance's total value was estimated at $180 billion, however private market trading has topped $350 billion. Just two years prior, in 2018, the company was worth $78 billion.
According to AppAnnie, users spend much more time watching TikTok than YouTube. People can view new content in a very short amount of time given the style of content that TikTok offers, especially when compared to YouTube. This helps explain why your marketing budget can be better used outside of YouTube and on TikTok.
According to Statista, the average TikTok post has 18%. engagement level. Instagram has an average engagement rate of 1,10%.
Compared to other social media platforms, App Ape Lab found TikTok to be significantly more engaging. According to the report, the younger generation can spend up to 52 minutes on the app every day.
Advertising on TikTok
TikTok's official guidelines state that the most successful ads on the platform are those that target the viewer's emotional response. The official leadership suggests that companies must be real and recognizable in order to succeed.
Promotion on TikTok helps to achieve several goals at once:
Increase brand awareness and draw the attention of the target audience to your offer.
Opportunity to take the lead. For many, TikTok remains solely an "entertainment" platform. But more and more expert videos, expert advice and other "adult" content appear on the social network, so the sooner you start promoting videos on TikTok, the higher the chances of overtaking competitors.
Building a community in a short time. The audience on TikTok is much easier to get involved in the process of communicating with the brand, leave likes and comment on the video. Along with this, your chances of creating a loyal community, which will become a brand advocate in the future, also increase.
Form the right idea about the brand, create a good image and establish communication with the target audience.
TikTok promotion is best suited for the B2C segment (from business to client). These are all kinds of goods and services, mobile applications, the beauty industry, sports, the automotive business, and so on.
To promote a brand on TikTok, you need to start by creating your channel and adding a few videos. The format and theme may vary, but the content should resonate with your brand or specific offer. For instance:
express unpacking;
a creative short presentation of a product or service;
advertising mini-clip;
getting to know the team, etc.
To get noticed and your content to regularly appear in the users' feed, you need to upload at least 3-5 videos daily with an interval of several hours. Therefore, it is wise to prepare more content in advance. In addition, having shot several dozen videos for TikTok, you will better understand the specifics of the site, and then it will become much easier to generate relevant content. Respond to user comments. This also helps to establish communication with the audience and "humanize" your brand.
The Tik Tok application is a fairly democratic platform where each user has great freedom for self-expression. However, there is a large list of topics and formats that the administration immediately blocks:
content 18+ (nudity)
scenes of violence;
any calls for suicide, harm to yourself or others;
Internet bullying;
spam in any form;
threats, etc.
In addition, TikTok may well ban a user account for plagiarism. But here it is important to understand one point. Plagiarism is usually called the complete copying and uploading of content. Participation, for example, in challenges with the same dances to the same track will not be considered as such.
The advantage of content on TikTok is that it doesn't go "on the table", as it usually happens on Instagram, if you do not include targeted advertising. The social network will recommend it using internal algorithms. The higher quality and viral content, the more actively it will be distributed. Especially if you go to TikTok trends.
Targeted ads on TikTok
Targeted advertising on TikTok appeared only in 2020 and initially worked exclusively in the United States. Now it has become public, and TikTok itself offers several promotion formats. However, we are only interested in the In-feed Ads format, since it does not require huge budgets and can be launched even without a brand account on TikTok. It is also the most native and popular ad format on this site. The main feature of this format is the ability to use creatives that will look native in the feed and will not cause a negative reaction from users. Ads in this format are seamlessly embedded in the user's recommendation feed. These are short videos up to 15 seconds long, which are similar to Instagram Stories. In-feed Ads may contain links and hashtags to promote and engage with content more effectively. The resulting traffic can be directed to the website, app download page, internal TikTok pages, or any other platform.

To run ads, you need to create an ad account. They are of two types:
Agency – only agencies that officially cooperate with TikTok, such as StarMarketing, can be created. The advantage of agency advertising cabinets is constant support by moderators. If something happens to the account (ban, program error, difficulties with settings), then managers will quickly help in solving problems. More advertising features are available in agent accounts. It also differs in the payment model – you need to replenish the account by transferring money to Singapore, the operation can drag on for a week or more.
Self-Reg – can be opened by anyone. No contact with support, some advertising features are not available. Payment is made by replenishing the advertising account from a bank card, it happens instantly.
Creating an advertising campaign consists of three components: the advertising company itself, the ad groups, and the ads themselves.
At the same stage, you need to choose the goal of advertising – awareness, consideration (traffic, app installs, video views) or conversions. The list is not complete and depends on the advertising account.

Next, you need to select an audience, create ads and run ads. The creation process is very similar to creating Facebook ADS or Linkedin ADS ads.

Budget
The cost of advertising on TikTok depends on many factors, but the main rule is that the budget should be at least $300 per month. With smaller amounts, advertising simply will not start. The optimal budget starts from $500/month. It should be taken into account that in Ukraine it is impossible to target by city, only throughout Ukraine, so if the business is regional, the initial costs will be above average. You can still show by city if you specify the name of the city on the video. Algorithms will see that users from a certain city respond better to ads and will show them more often in the right geo.
Conclusions
TikTok has already firmly established itself in our lives and is not going to lose ground. It has long outgrown the "teenage period" and has become a full-fledged tool for brands and businesses. The ad market is not as crowded as on Instagram or Facebook, the algorithms work well, and new features easily engage the audience. It might be something some people should think about before considering it as a direct sales tool, but it's definitely worth using to capture the interest and love of the public, create a brand name, and generate leads for further processing down the sales funnel. TikTok is a powerful tool that can push purchase decisions and increase trust, and the advertising budget is no different from the budget on Instagram or Facebook. It has a large audience ready to pay, and flexible settings for finding exactly its audience.